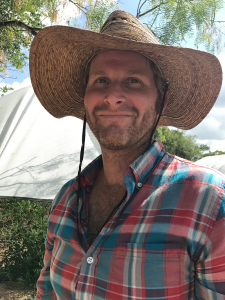 A Philadelphia native, Damon served in the US Navy for 7 years. In 2001, a week after he was discharged as a conscientious objector, he returned home to begin his agricultural career. Looking to gain more farming experience, he rode his bike from Philadelphia to Todos Santos, Mexico working on several vegetable farms before his first internship at Kimberton CSA – one of the first biodynamic CSA's in the country.
After Kimberton, Damon moved to Camphill Copake, an anthroposophic life sharing community to work at Turtle Tree Seed where he further deepened his connection with biodynamic practices. After two years of growing seeds, Damon made his way further north where he started and ran a small CSA in Temple, New Hampshire. Following that, he spent a year at Temple-Wilton CSA – the first biodynamic CSA in the United States. 
Beginning in 2010 Damon managed the 5-acre farm at the Abode of the Message, a Sufi retreat community in New Lebanon, New York.  During this time he travelled to SW England to to complete an MSc at Schumacher College in sustainable horticulture and food production.  
Damon moved to Austin, Texas in 2013. In 2016, he and his partner, Amira, purchased a 10-acre plot of fertile farmland, just east of town, that they are now stewarding into the future as In the Garden Farm.